Global AdvertiZing, LLC is an American company founded and located in North Dakota. It was created in 1999 by actual customers needing a straight forward approach to advertise their own products and services. Global AdvertiZing's primary focus is to present "your" advertisement without clutter and gimmicks. Global AdvertiZing, LLC promotes your goods and services using the most direct format possible.
Global AdvertiZing, LLC is the number one in choice of advertising websites. We operate over 7,000 websites. All of the websites are owned and managed by Global AdvertiZing, LLC. Each of our membership plans allow you to list your advertisement on not just one website but multiple websites. Targeted website selection on thousands of websites is the primary advantage that Global AdvertiZing, LLC offers to our customers! The customer is able to select the websites where they want their ads to appear.
Listing your advertisement on multiple websites greatly enhances its visibility.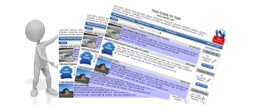 Select a membership plan that meets your needs!
Additional Features
Direct customer contact without the need of an account! We forward all advertisement inquiries directly to your email account permitting you to review and reply directly.

Email protection! Global Advertizing understands how frustrating and annoying unwanted email can be and it our policy to never share your email address.

Vanity email addresses from any of our 7,000+ websites! We can forward email addresses to your existing email address to help market your product of service.

All orders and logins are secured using GeoTrust and secured payment services!

Still have questions? Talk "live" to one of our "own" sales associates. Global Advertizing employs our sales associates that understand our services and takes pride in working with each client. 1-701-579-4298.